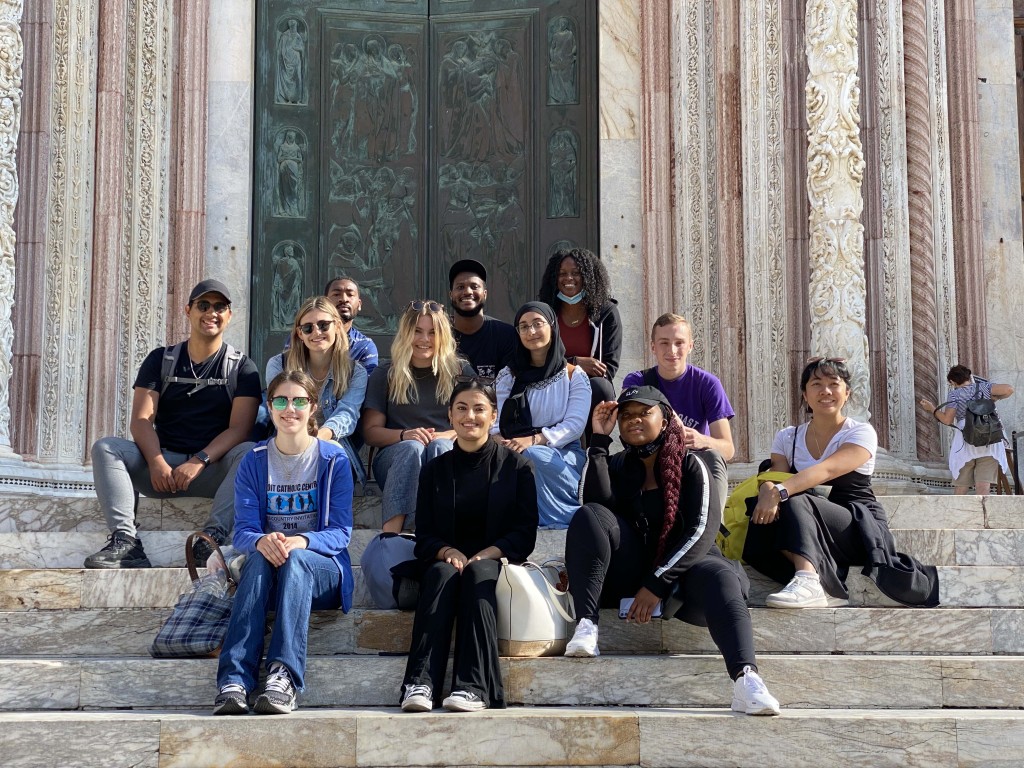 This past weekend we all took a day trip to see the cathedral in Siena. The above photo is all of us sitting on the steps of the cathedral, right before we were able to view the interior. The exterior facade uses white, green, and pink marble. The lower part of the cathedral is romanesque, while the upper part of the cathedral is gothic. The interior was very impressive- with the key feature being the flooring. The floors consisted of 56 marble mosaic panels, constructed by over forty artisans from the 14th to 16th century. We were able to visit and learn about a few other things while in Siena- but this was definitely a highlight.
After our day trip to Siena, some students decided to do some traveling on their own for the remainder of the weekend. A group of students (Aly, Odette, Sumer, Neteya, + Nyvey) decided to go to Viareggio and have a girls beach weekend. It was a relaxing weekend with lots of time spent in the water, soaking up the sun.
Another group (Dakota, Grace, Maddie, + John) went to Milan. They visited the Milan Cathedral and were able to walk around the perimeter of the upper roof, allowing them to see the architecture from a really interesting and close up perspective. A bit of shopping occurred (maybe too much, actually?) and they also attended an AC Milan soccer game. AC Milan won 2-0, and Zlatan scored with both of his shoes untied. Overall, it was a fun and exciting weekend for everyone!